Watercolour is an 'alive' medium. It behaves in myriads of different ways according to how it is used. One of the biggest variations in behavior of watercolor is actually not due to watercolor itself, but the surface on which it is applied. That is the watercolor paper. Watercolour paper is one of the most important parts of the watercolor jigsaw puzzle. If you are painting in watercolors you ought to know about different types of paper, so that you can choose the best paper that is suited for your style or for a particular piece. This post on Watercolor Paper is a complete guide on different types of watercolor paper and their properties. I'll also touch upon alternatives and supplements to Watercolour Paper that you can use for becoming more effective at watercolor painting while saving money. In case you are a beginner in watercolor, before you dig any further I would recommend you to go through my post on Watercolor Painting for Beginners.
What is Watercolor Paper made up of ?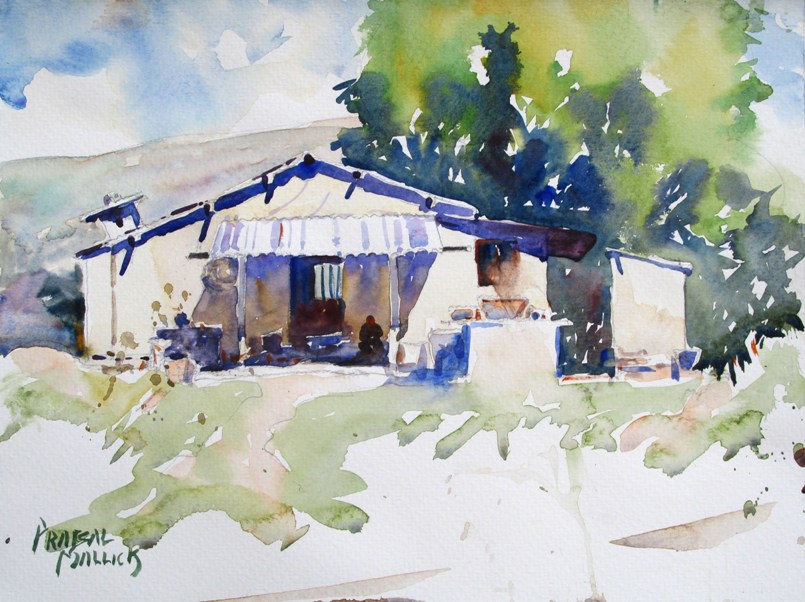 Watercolour Paper is a special type of paper made with cellulose, which is the material that plants use to build their stems and leaves. The cellulose can be derive from many sources, but typically watercolor papers are made from the cellulose derived from cotton and wood pulp. Cotton is much stronger than wood pulp and is also pH neutral, meaning it is naturally acid free. Wood pulp is not as strong as cotton and is also acidic. Wood pulp has to be chemically treated during manufacturing process to make the paper acid free. In case you are wondering what does acid free mean, it is nothing but being neutral on pH scale. Residual acid make paper go yellow with age. Hence ideally you would want your watercolor paper to be acid free in case you want it not to yellow with age. Watercolor paper with more cotton content therefore is better from strength and acid free property point of view. Some papers are marked as 100% cotton. That means it will be a good Watercolour Paper and by the way more expensive too.
There are two types of watercolor paper available in the market based on quality. Artist grade and student grade. You would find that artist quality is made up of 100% cotton while student quality is not. And student quality may or may not be acid free, which makes student quality Watercolour Paper cheaper than artist quality Watercolor Paper.
How is Watercolour Paper Made ?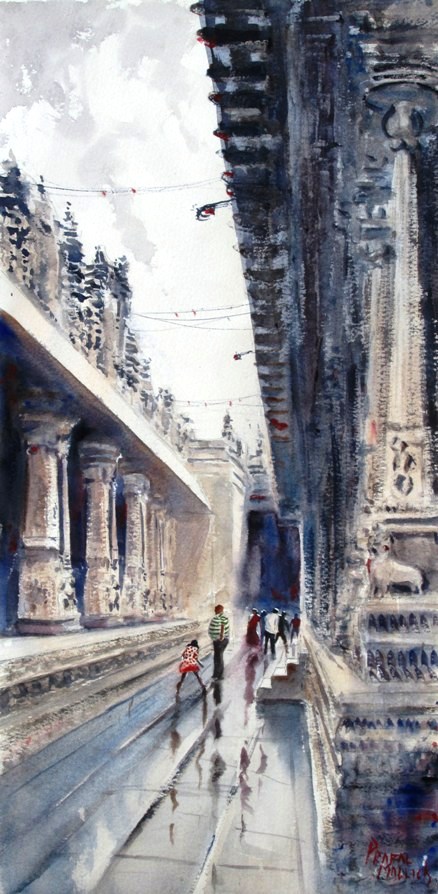 Individual cellulose fibers are separated by soaking and pounding of the pulp. Then it is mixed with water and this liquid is used to make the paper. When made by hand this is spread on a mould by hand and dried. This leads to variations in texture due to randomness in  direction of the fibre. The machine made paper has uniform texture as all the fibres get aligned in the same direction. If the paper is made with a cylindrical mould then its texture variation would be more than machine made paper, but less than handmade paper. Generally as a rule hand made paper would have deckled edges on all four sides, mould made paper would have it on two sides and machine made paper would have none.
Most of the time the machine made paper is sold as student quality paper, while the mould made and hand made varieties are sold as artist grade paper.
Weight and Size of Watercolor Paper
Though there are quiet a few specifications on the size of watercolor paper, the most commonly used are as follows.
| Name | Size in Inches |
| --- | --- |
| Full imperial | 22 x 30 |
| Half Imperial | 15 x 22 |
| Quarter imperial | 11 x 15 |
| Elephant(USA) | 27.75 x 40 |
| Double Elephant (USA) | 29 x 41 |
| Double Elephant (UK) | 27 x 40 |
| Emperor (USA) | 40 x 60 |
Thicker watercolor papers can withstand rough use, buckling and bending due to effect of water. Hence watercolor paper is also specified according to its thickness using a term called Grams per Square Meter or GSM. It is defined as the weight of a 1 x 1 meter paper in grams. Sometimes you may come across another term called pound per ream or just lb. This is defined as the weight in pound of 500 sheets of full imperial size. Here are some of the commonly used watercolor paper according to their GSM specification.
| Relative weight | GSM | Pounds per Ream | Usage |
| --- | --- | --- | --- |
| Heavy | 550-600 | 260-280 | Generally used for large works. Does not need stretching. |
| Medium | 300-400 | 140-190 | Generally used for small to medium size works. May need stretching. |
| Light | 170-280 | 80-130 | Generally used for small size works. It needs stretching. |
Surface Finish of Watercolour Paper

This is the most interesting feature of watercolor paper and this is going to play the biggest role in the outcome of your watercolor works. When mould made watercolor paper is dried it is either pressed using a press or a roller is rolled on it. Depending on the texture of this press or roller the paper gets its texture. In handmade paper making however the paper is left to dry on its own and the texture is formed because of the natural variation of the cellulose as it dries. There are three kind of surfaces that you get in the stores. The paper with maximum surface roughness or texture is called 'Rough'. This is generally rolled or pressed between a felt cloth from where the texture of the paper is derived. The paper with smooth surface finish is called 'Hot Pressed'. Paper is pressed between smooth plates and sometimes this plate is hot. Hence the name Hot pressed. And the one having roughness somewhere in between these two is called 'Cold Pressed' (Its called 'Not' in UK). This is pressed using a mechanical press with finer grains or rolled with a roller covered with felt cloth of finer texture than what is used to dry Rough paper. Here is a comparison table showing the difference of these surfaces from paint application point of view.
| Finish | Properties |
| --- | --- |
| Rough | Most absorbent.Surface traps watercolor pigments creating an even watercolor wash. Best for dry brush technique. Not great for lifting and corrections. Best suited for aggressive brush techniques. Not for highly detailed works as the surface texture does not allow small details to be painted in correct shape. Color vibrancy is not the best on rough paper. Works well with all painting consistencies, from very diluted to undiluted. |
| Cold Pressed | Medium absorbency. Washes come out almost as good as rough paper. Dry brush technique works to some extent. Some amount of lifting and corrections can be done. It can take most of the aggressive brush technique well. A good amount of detailed work can also be done on this. Vibrancy of colors is good as long as glazes are kept to a minimum. Works well with all painting consistencies, from very diluted to undiluted. |
| Hot Pressed | This is the least absorbent paper. Washes turn out uneven, but it gives a nice juicy look. Dry brush technique just wont work on this. Best suited for lifting and corrections. Brush work has to be light and delicate. Aggressive brush work really does not work on this paper. Best suited for highly detailed work. This is the best paper for retaining the vibrancy of colors. Does not work well with undiluted paint. |
Sheet, Roll or Pad ?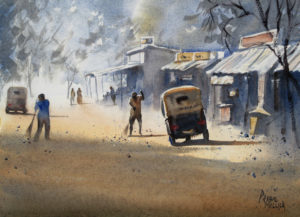 Watercolour paper comes in three forms. Sheets, Rolls and Pads or Blocks. Now a days rolls come in approximately 44 inch x 10 yard size, while sheets generally come in full imperial size. You can also get sheets which are approximately of the same size as elephant and double elephant papers. Pads are pre-cut watercolor sheets in a notebook form either spiral bounded or glued on one side. Blocks are like pads except they are glued on all sides. Hence you automatically get a pre-stretched paper with a support of the block to paint on.  If you take price per area of paper then pads and blocks turn out to be quite expensive in comparison with sheets and rolls.
I recommend using sheets and rolls in general because they can be cut to any size and and are cheaper. But its good to have pads of smaller size for quick outdoor painting and sketching. I generally use two pads. One is of size 10×14 inch while the other is 9×12 inch.You also get watercolor boards which is nothing but watercolour paper glued to a stiff board.In this form the paper is pre-stretched on the board.
Going Beyond Watercolor Paper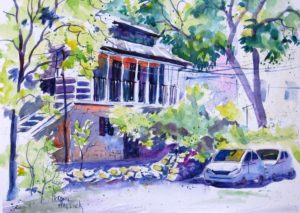 All said and done watercolor paper does not come cheap. Whether you are a student or a professional you are going to end up using a lot of sheets in a year. Most of them would be for practice and rough works. And it really does not make sense to use expensive watercolor paper every time. So I am going to suggest a few alternatives which is going to cost you much less than the standard watercolour paper.
Indian Handmade WATERCOLOR Paper
In India this paper made locally at different parts of the country and sold as handmade paper for watercolor. It is also exported to other countries like USA, UK. So getting them should not be a difficult task. This paper is around 250-270 gsm in weight and comes in rough and matte textures. The price of these sheets can vary from Rs 20 to Rs 50 per sheet. It responds as well as the best rough and cold pressed papers of the world to watercolor. This is made of 100% rag and hence painting on these is a great joy. If you want to use it as a substitute to rough and cold pressed paper you can. The biggest drawback however of these papers is that it is not acid free. And it can also be a little inconsistent as it is made with hands.
Chart Paper
Surprised? Yes I am talking about the everyday cardboard paper or chart paper. Its weight is around 250 gsm and comes in a smooth finish. Its surface responds to watercolor in a very similar manner to hot pressed paper. The problem again with these is that they are not acid free in general. Acid free chart papers are also available. But they are slightly more expensive, but still cheaper than hot pressed watercolor paper.
Cartridge Paper
Cartridge paper is generally used for sketching purpose. But it can also be used for making a full blown watercolor painting. Care has to be taken to keep the glazes to a maximum of 2-3. Many artists are not comfortable with cartridge paper due to its wight as its comes in 120-150 gsm. But still this paper is excellent for quick outdoor sketches in small formats.
How to Choose Watercolour Paper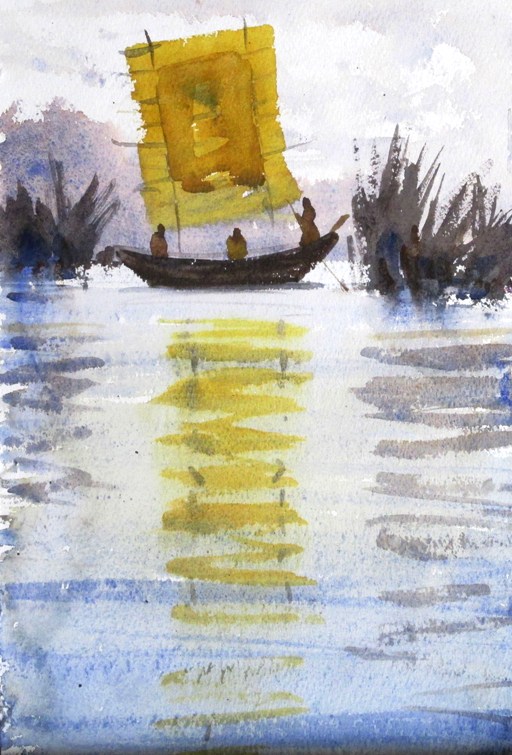 Now that you have a great amount of information on the watercolor paper, when the time comes how do you choose the right watercolour paper? Let me summarize everything here.
If you are starting out then I would suggest to use Indian handmade paper, chart paper and cartridge paper to get a good understanding of different surfaces at a much lower cost. Gradually start buying watercolor paper when you area a little comfortable with handling watercolor.
If you are buying paper for doing your final works then

Check if your paper is 100% cotton.
Check for acid free tag.
Choose a paper that is at least 300 gsm.
Choose the surface according to your style and techniques that you generally use.
Preferably buy hand made or mould made papers. If you are buying machine made paper, make sure that is it artist quality.

Buy sheets and rolls for paintings. For quick outdoor paintings however its good to have small size pads.
Few Tips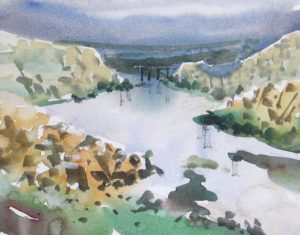 Do bulk buying during discounts season to save some money. Bulk buying in a group also helps save a lot of money. But be sure to store them away from moisture.
Sometimes paper manufactures close their shop or sell their business to another company. In such cases either you stop getting your favorite paper or the quality of the paper changes. So it is best not to get used to one brand of paper. Try out all brands and all types of paper to see what suits your style. Zero down on at least 2 brands and at least 2 surface finishes. Get used to all of them.
Painting on different surfaces also helps you find new horizons in your work. So paint on different surfaces like chart paper and cartridge paper.Talk to your artist friends to find out what surfaces they paint on. Exchange your papers and try them out. Experiment with different papers, surfaces finish and find out the best paper suited for you but dont get stuck to just one of them.
My last words would be to forget the cost of the paper when you are painting. When you worry about it, you would want to create a masterpiece every time you paint and that would put undue pressure on yourself. Unfortunately it would show in the painting. So forget about it and just play with paint and have fun.