Shimilipal tiger reserve in Mayurbhanj district of north Odisha had been in my bucket list for quiet a long time. But somehow luck had never been on my side and I could never make a pilgrimage to the tiger temple of Odisha. But then I had my 'Oh Yes Finally' moment in November this year. And it was not just a trip to Shimilpal. It was a sketching trip to the tribal hinterlands of northern Odisha. I was going to be painting in Mayurbhanj en plein air. And the icing on cake was that I made this trip with a group of sketchers of Bhubaneswar Sketching Club (BSC). I could not have wished for more.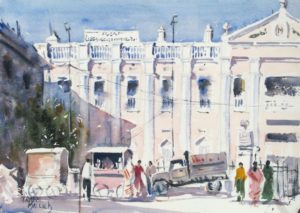 Baripada
Baripada is the district headquarter of Mayurbhanj district and this is where we flagged off our sketching marathon on 4th of November. Coincidentally it was Kartik Poornima on the same day, a festival which is celebrated with a lot of enthusiasm across Odisha. People had gathered on the streets early in the morning after boita bandana and it created a very energetic atmosphere. We happen to be at MPC junior college which is actually a palace now functioning as a educational institute. The sunlight was also quiet angular and it created very interesting shadow patterns on the walls of the college. All in all it was a perfect morning to paint on location and all of us enjoyed sketching there. Later we moved to collector's office which is housed in an old British building and sketched there.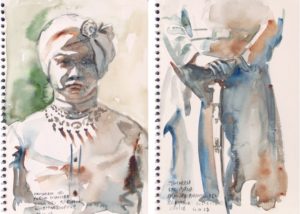 Baldiha
On day 2 we headed to a tribal village named Baldiha. But before going inside the village we decided to sketch at the Baldiha dam where many films have been shot. When we reached the dam it was not difficult to understand why so many films have been shot there. The vast expanse of the river flowing smoothly till the dam and them the overflowing water from the dam gushing down with brutal force was something I could not take my eyes off from. We sketched here till lunch. After a hearty lunch of simple and delicious local food we moved inside the village.
Sketching inside the village was one of the highlights of the trip. The villagers welcomed us with a smile everywhere we went. I sketched in the courtyard of a house. It was amazing to see how the living space is shared with cattle, goats, poultry which itself is surrounded by agricultural land and forest. The life of the villagers was all about inclusion, interdependence, community and restraint. It was such a humbling experience to sketch there.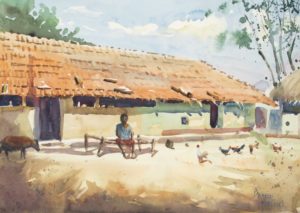 Similipal
It was the third and last day of our trip and a day I had been waiting for a really long time. We were going into Similipal and if possible we were going to do some sketching there. Once we got inside the forest, Similipal started to reveal its beauty gradually. And it was better than what I could have imagined. It was serene yet edgy. Sort of sensual in a way. We traveled about 120 kms into the forest. On the way we made stops at a few waterfalls. But nothing prepared me for our last pit stop at Uski waterfall. We could get really close to the waterfall. In fact two of us trekked upto the fall through the river and it was a lot of fun. Watching the water gush down the hill made time stop. It was difficult to take my eyes off it. Unfortunately it was starting to get dark and we started our journey back to Baripada. And in the meanwhile we did manage to sketch at a couple of places including Uski waterfall.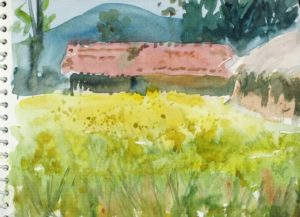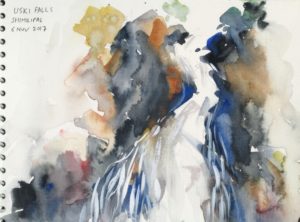 ---
All of us had a great time doing intensive sketching and enjoying the natural beauty of Mayubhanj for three days in stretch. But those three days seemed to have flown by in a jiffy. Three days indeed were too short to soak in the beauty of north Odisha. I am already planning my next trip there.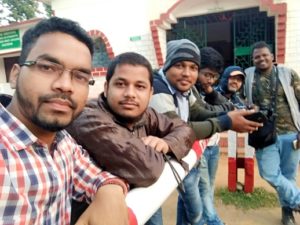 p.s. I also made a small video on our Similipal visit. You can see it here.